Actualité
Let's celebrate the World Cup at the Village Rugby on Place de la Concorde !
Mise à jour le 30/08/2023
From September 8th to October 28th, Paris will live for the Rugby World Cup 2023, with a whole village entirely dedicated to the oval ball on Place de la Concorde (8e). Let's dig into the highlights and take a glimpse of Paris' commitments in terms of accessibility and eco-responsibility.
Ready to party, rugby lovers ? Place de la Concorde will host a whole village dedicated to rugby during the
World Cup organized in France
. The « Village Rugby » will be open during the whole competition, from September 8th to October 28th. All the matches will take place at the Stade de France but there is no doubt that the party will be in the heart of Paris, thanks to Village Rugby !
This village, initiated by the City of Paris, as part of an agreement with France 2023, will be able to open its doors to at least 15 000 people in secure conditions and up to 39 000 during the opening day and in case the french teams qualifies for the finals.
Don't forget your bottle !

Remember to bring your water bottle ! In collaboration with Eau de Paris, several water fountain spaces are placed in the village. Visitors are invited to bring their own bottle, with a maximum capacity of 75 ml. Glass water bottles are not permitted.

Live broadcasts, meetings with top athletes, entertainment…
On the menu : two giant screens right on the Village in order to broadcast the matches of this World Cup (for the opening game France vs New Zealand, there will be four screens). Guests will find two sports fields for entertainment, photo booths, the official « France 2023 » store , exhibitions and a central stage which will welcome the opening show, some DJ sets as well as sports and cultural performances, all of this during the opening days. Parisians and visitors will be able to eat in the catering area, with food trucks and french restaurant « Le Bouillon ».
Also, RMC, a national radio station, will have a spot in the Village in order to broadcast live all of their radio shows, open to the public. They will present their oh-so-famous « Le Super Moscato Show ».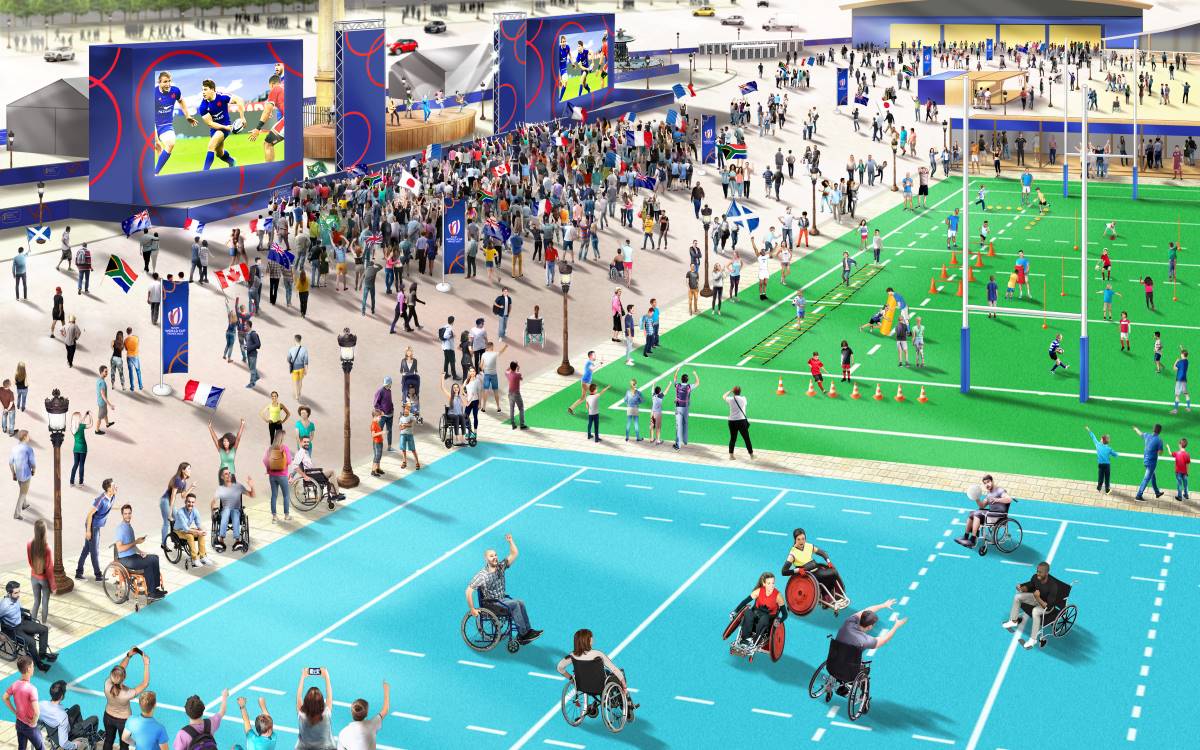 A village accessible to all…
Designed in the shape of the rugby ball, the Village will entirely be accessible and suitable for disabled and reduced mobility persons. The circulation in the village, the food areas, the broadcasting spots as well as the entertainment and initiation areas will also all be accessible to people with disabilities. 120 volunteers will be mobilized on the Village Rugby, amongst which several with disabilities.
… and environmentally friendly
The City of Paris is pursuing a policy to fight against plastic pollution by leading an ambitious goal : to ban using single-use plastic by 2024. The Village Rugby Paris will take Several measures will be taken on the Village Rugby, such as :
Actions taken in order to reduce waste of unconsumed food, use of eco-responsible and compostable containers, traceability of products and suppliers or even the use of some organic/specific waste such as frying oil

In the catering areas, all containers used will be eco-responsible thanks to our partnership with De Facto, expert in eco-responsible food packaging. Once used, these containers will be recycled and used by Moulinot, specialized in collecting, sorting and recycling food waste.
In collaboration with Eau de Paris, several water fountains will be placed accross the Village Rugby
A variety of food alternatives will be offered in the different food trucks : vegeterian, gluten-free, lactose-free and nut-free.
A corner 100% dedicated to eco-responsibility projects, managed by « Les Connexions » will offer many workshops, exhibitions and animations such as « The long life of waste » and « The container's wheel of sorting ».
Each opening day, several workshops will be organized for kids and their parents in order to promote sustainable development actions.
The Village Rugby will be open - with no entrance fee - every Thursday for the French team matches and every Friday, Saturday et Sunday from 2pm until 11.30pm.
Practical Information
The Village Rugby will be open free of charge each Thursday for the French team matches and every Friday, Saturday and Sunday from 2pm until 11.30pm. It will be located on the eastern side of the Place de la Concorde which will be closed for traffic between the Jardin des Tuileries and the center of Place de la Concorde.

The east side is already closed but the access to the Jardin des Tuileries is open. The Village will be set-up and dismantled during weekdays and noice disturbances will not exceed 10pm. The renowned and emblematics candelabras on the Place de la Concorde will exceptionally be removed and stored during the competition.

The Wheelchair Rugby World Cup this october !
Paris will also be the only host territory of the Wheelchair Rugby World Cup, a booming sport and Paralympic discipline. Organized in France for the first time, it will take place from Monday October 16th to Sunday October 22nd, 2023 at the Halle Carpentier (13th) and at the Accor Arena (12th) for the final stages.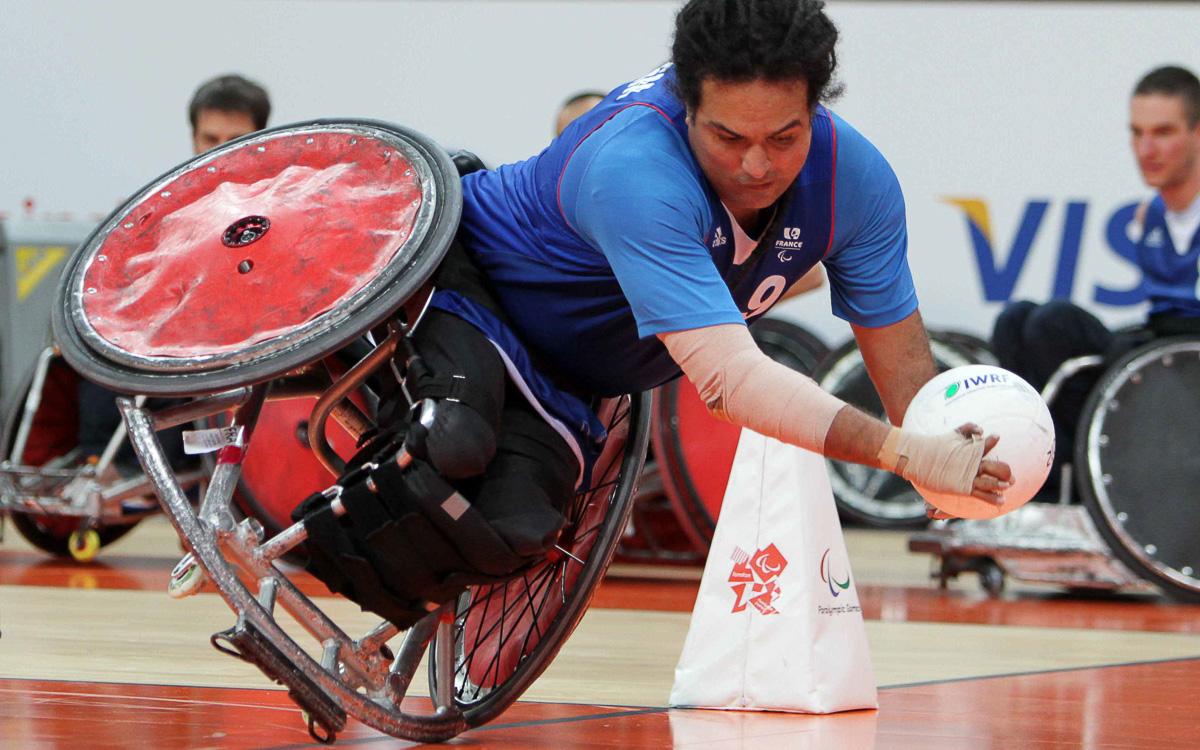 Votre avis nous intéresse !
Ces informations vous ont-elles été utiles ?
Attention
: nous ne
pouvons pas vous répondre
par ce biais (n'incluez pas d'information personnelle). Si vous avez une question, souhaitez un suivi ou avez besoin d'assistance :
contactez la ville ici
.
Vous ne connaissez toujours pas ?
Sélection des bons plans intemporels, mais qui valent le coup toute l'année !